Our property is a mountain bike paradise with about 50km of tracks.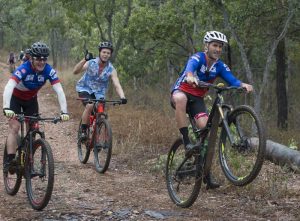 Every year several mountain bike events are using our property, including the Cairns to Karumba Charity ride, the CAFNEC far north wilderness bike tour,  Mareeba Mountain Goats events and the International Reef to Reef mountain bike race.
As a camper, you are welcome to use the same tracks, but you can also explore tracks none of those events have used yet.
Most of those mountain bike events use the Full Loop.
At each campsite is a map with available tracks for you to ride.
You can also check out the various walks and ride along those tracks.
If you are really keen, you can ride to the Davies creek mountain park, which is only about 1.5km from our back-gate, starting at the back of the Brindle Valley Loop.
Here a map with most of its trails:
NOTE: you can ride the main road between our back gate and Davies creek either way, but please ride all mountain bike trails only clockwise!
If you ride all the way to Bare Hill, you can also follow the signs and walk up to the local area's main Aboriginal art site.
Enjoy and feel free to let us know how you went.
🙂