One of our new sites, Camp 10 is the most private site on Emerald Creek.  Situated on the high bank it overlooks the creek.
A short path leads down to the creek where you will find rapids, water holes and one of the biggest pools along the 3km of river inside of our property.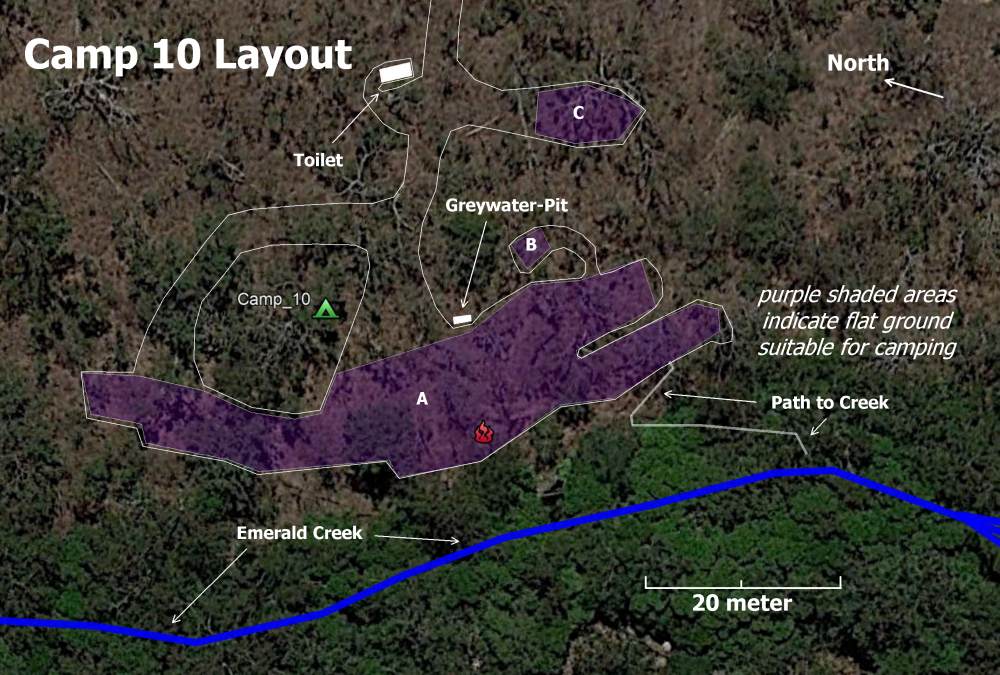 Size: Large camp site with about 700 square meters of level ground.
Areas A (~650 sqm) is on the high bank and overlooks Emerald creek
Area B is only about 10-15 sqm, but makes for a very shady spot to hang out at the table we provide (bring your own chairs)
Area C (50 sqm) is an additional level area for those who want to be a bit further away from the rest.
Access: 4WD, medium RV, medium caravans and trailers, all with medium clearance
Occupancy: Basic fee includes 5 adults.
Suggested occupancy up to 30 people and 6 vehicles.
Privacy: ~600m from closest road and very well hidden, ~330m from closest camp site (all as the crow flies), one of our most private sites
Fees:
Camp 10 is in our Medium Price Category


NOTES: all prices are per person per night. The base rate includes 5 adults or child equivalents (or 7.5 adults for long weekends or 10 adults for Easter)
Click here for more info on pricing (eg fees for children, long weekends, possible discounts etc).
A Bond of $100 or 30% of camping fee will also be charged, which is refundable if Terms and Code of Conduct are adhered to and no littering occurs.
Availability:

Events in December 2023
MonMonday
TueTuesday
WedWednesday
ThuThursday
FriFriday
SatSaturday
SunSunday

272023-11-27

282023-11-28

292023-11-29

302023-11-30

12023-12-01

22023-12-02

32023-12-03

42023-12-04

52023-12-05

62023-12-06

72023-12-07

82023-12-08

92023-12-09●(1 event)

Camp 10: FULL

Camp 10
2023-12-09 – 2023-12-10

102023-12-10●(1 event)

Camp 10: FULL

Camp 10
2023-12-09 – 2023-12-10

112023-12-11

122023-12-12

132023-12-13

142023-12-14

152023-12-15

162023-12-16

172023-12-17

182023-12-18

192023-12-19

202023-12-20

212023-12-21

222023-12-22

232023-12-23

242023-12-24

252023-12-25

262023-12-26

272023-12-27

282023-12-28

292023-12-29

302023-12-30

312023-12-31
Important Note: Just because the calendar shows no bookings for a certain date, this does not guarantee availability; we might have received a booking application which awaits processing or payment.
If you want to book this camp, please fill out our booking form.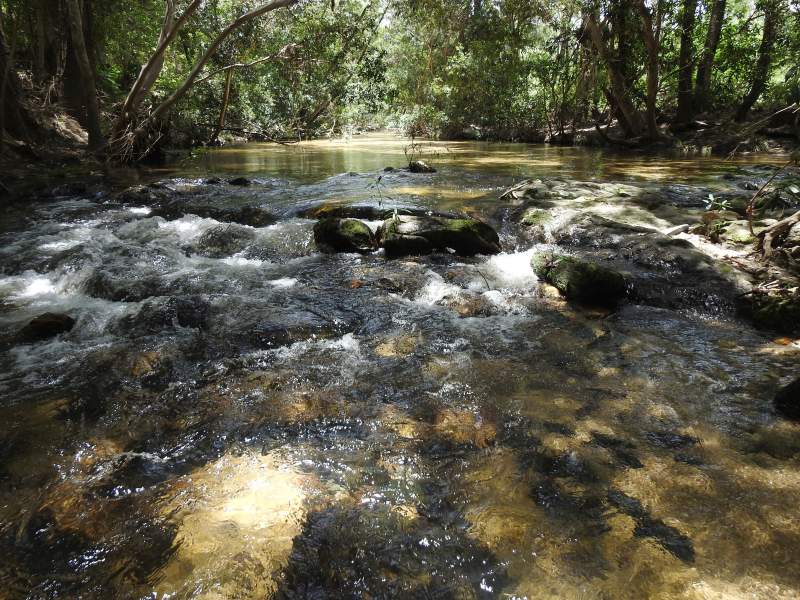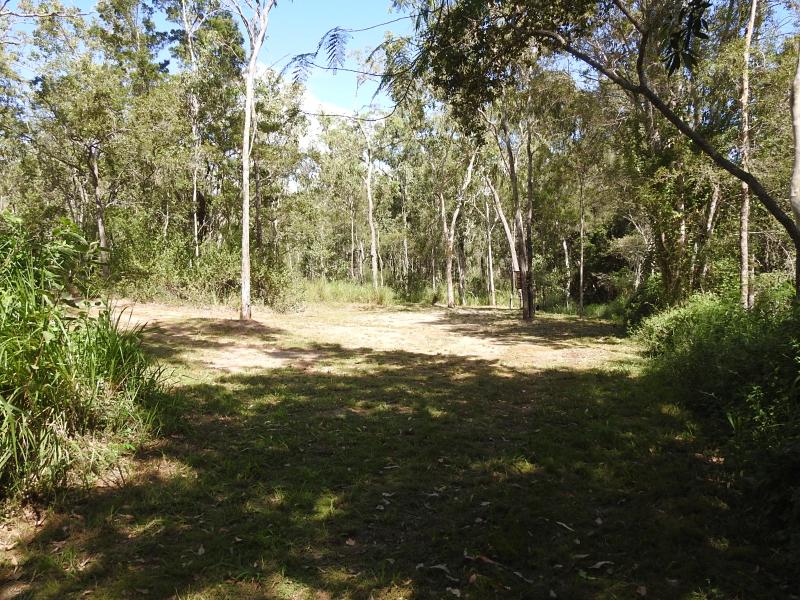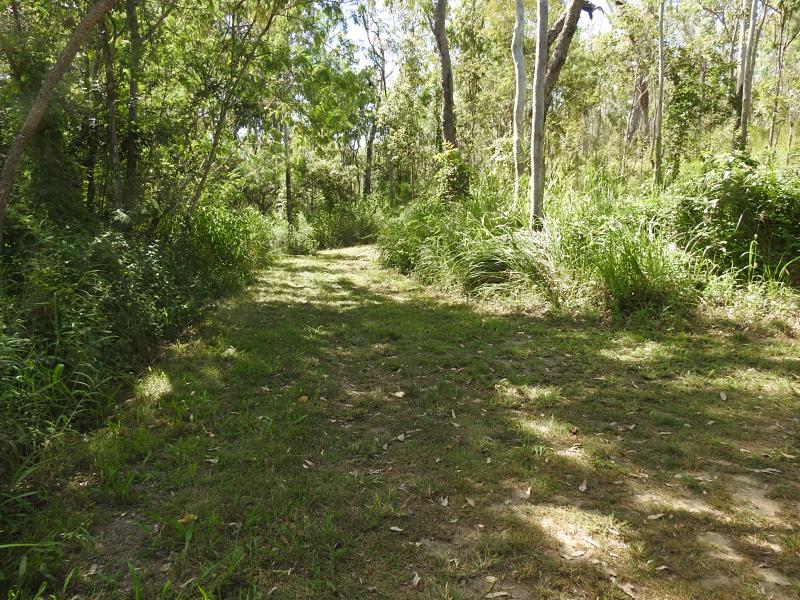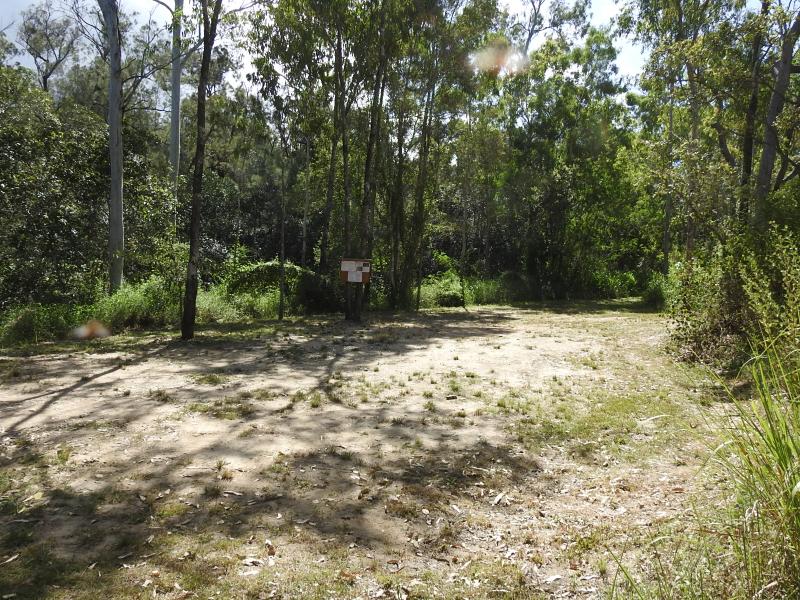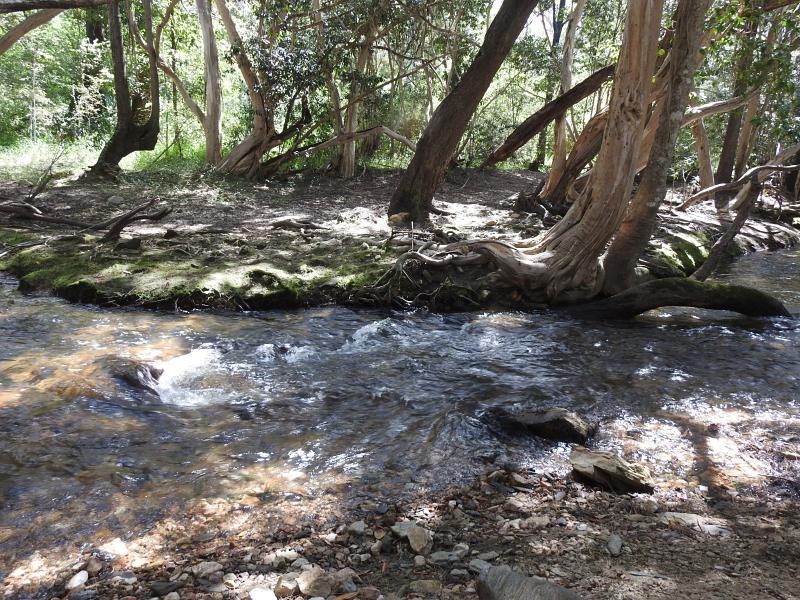 Here are some pictures kindly supplied by campers who used this site:
And here some feedback from previous campers at Camp 10 who kindly shared their experience:
Display_Name
Star Rating
Please comment on this particular camp site
What camping set_up did your party use?
How well was this site suited to your camping set_up?
How does this site compare with other camp sites you have been to?
Linda
5
I really appreciated that it felt untouched, apart from the compost toilet (which is a great idea). The creek was running very cold clear water, when it was a bit warm at the camp site it's just a quick short walk down to the creek which has the most beautiful tree coverage. Absolutely stunning.
small-camper
Nothing needs to be changed on this site. There is plenty of space.
Its the best
Peter
5
Privacy – Exceptional
Setting – Sensational with close proximity to the creek.
Pad – perfect for our two families.
medium-trailer
I cannot think of any improvements. It was perfect for us and we look forward to coming back.
Its one of the best
Russell Hawkins
5
Could not be better. We have a couple of favourite property stays, for their privacy and water frontage, but this was the best yet. Plenty of room, although I wouldn't want to tow a full size van in (mine is only 2m wide). Quiet except for the power line guys chainsaws on occasions, but no problem really.
The creek is fantastic. Patty sat down there and painted while I dozed under the awning.
small-caravan
Turned out fine, but not knowing when we were entering was a bit worrying – I couldn't recall whether you'd said it was ok for caravans, but it was fine (AOR Matrix full height if that helps).
The map showed the grey water pit, but if it hadn't been for the site map at the site, I would not have figured out where it was as it didn't look like a pit.
Beautiful clear water in the creek!
The table is a nice bonus.
Its one of the best
Prue
5
Creek is very close, lots of flat ground to set up. The creek is perfect for all ages.
swag,medium-camper,small-trailer
No issues!
Its one of the best
Daniel
5
Very private. Good, flat camping pad. excellent access to the creek.
large-tent
no issues. access was fine, including turnaround bays for our box trailers. plenty of space for 7 adults and 8 kids. If you wanted a permanent gazebo near the fire ring would be a simple addition to be used as camp kitchen, but not essential
Its better than most
anonymous
5
Good location,balance between where creek ,flat area and toilet are perfect.
medium-trailer
Nothing i can think of
Its one of the best
Davina Brebner
5
The camp site was clean and we had total privacy. The access to the creek was easy and the creek itself was beautiful. It was a larger site so we had heaps of room. We loved the location and the general feel of the site.
medium-tent
The site was nice and flat. We were able to pitch 3 tents and a Gazebbo and we had plenty of room.
Its the best
Chrissy
5
Nestled on the creek it feels so private and cosey. Even on a hot dry day down in the shade of the creek was great, very good for kids too.
swag,small-tent,medium-tent,small-trailer,large-tent
It suited us perfectly.
Its the best
Claire
5
This camp site felt very private with lots of options for setting up tents. It got a little hot during the middle hours of the day however the creek provided a perfect place to retreat to.
small-tent
We had 3 families camping and this site suited perfectly.
Its one of the best
anonymous
5
Super private, easy to find, fantastic for the kids as the water wasn't too high for them
swag,medium-trailer,large-trailer
no problems with set up, plenty of space for everyone
Its the best
Display_Name
Star Rating
Please comment on this particular camp site
What camping set_up did your party use?
How well was this site suited to your camping set_up?
How does this site compare with other camp sites you have been to?