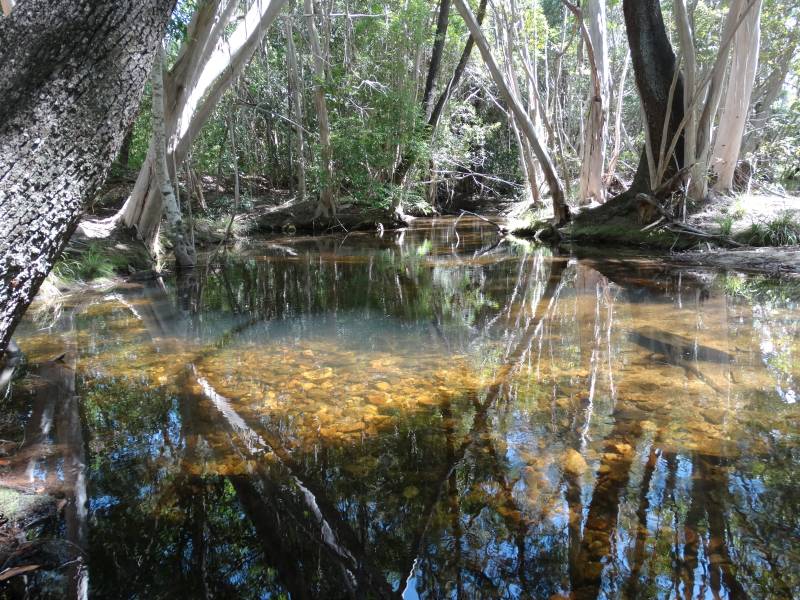 Camp 5 is situated on a very beautiful spot on Emerald Creek (see map below) in an area of tall shady trees along the creek. There is a refreshing waterhole and an island in the river right at the camp site. It has a sizeable lower camp area (or day area – see "lower camp area" image and map below) and two even larger upper camp areas. Suitable for medium and larger groups with up to 10 vehicles and 30 people; 4WD only, but trailers are possible if driver can reverse them to turn around. This camp site is very shady and cool in Summer and ideal for bird watchers.
NOTE: in very wet conditions, trailers might have problems getting back up the first steep bit of the exit.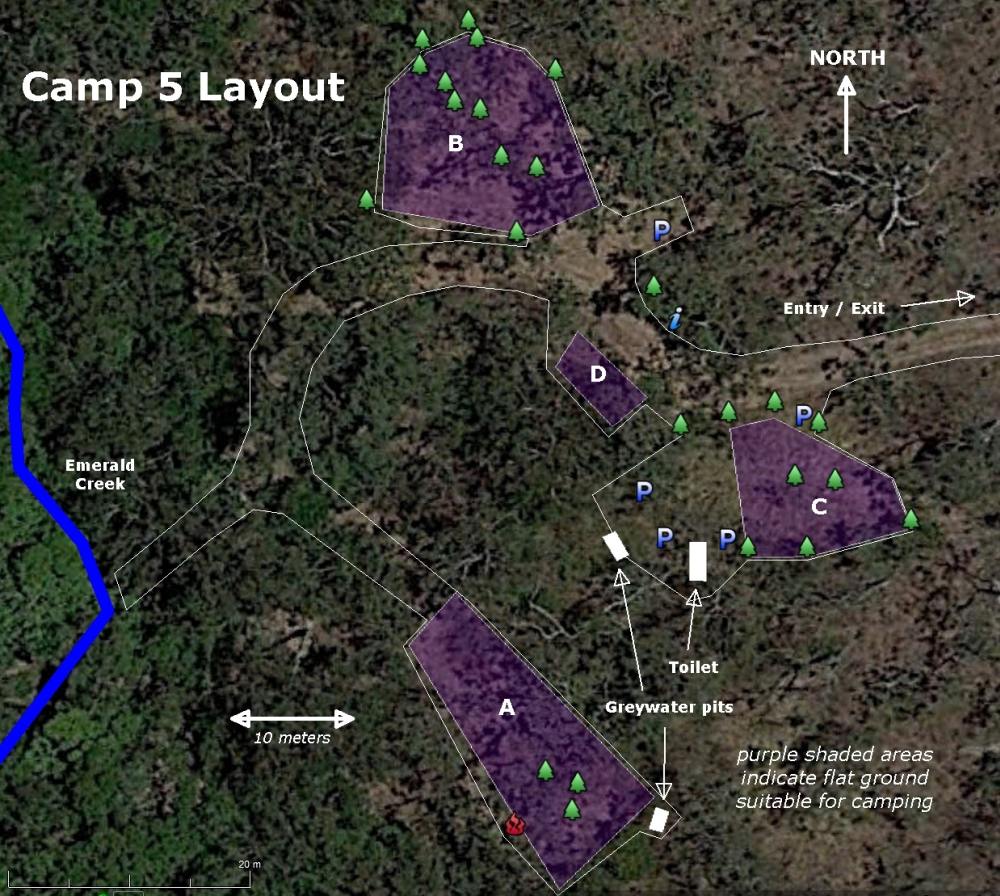 Size: Medium to large camp site right on the creek. It has one large (~180sqm) area (A) near the creek and a very large area with flat ground a bit higher up (including B ~200sqm, C ~120sqm and D ~20sqm in the above map), as well as some nice spots along the creek to spend the day in the shade by the water.
Access: 4WD, small and medium Camper Van, Camper Trailer (very good reversing skills required).
NOTE: Camp 5 is situated at one of our creek crossings. This crossing might be used occasionally by our farm or management vehicles or by Ergon when servicing the powerline (a very rare occurrence). You are not permitted to drive across the creek.
Occupancy: This site can be booked for less, but will be charged for a minimum of 4 adults.
Suggested occupancy up to 30 people and 10 vehicles.
Privacy: About 90 meters from a farm road, 370m from closest road accessible to vehicles of other campers and ~800 meters from closest camp site (all as the crow flies).
The creek crossing at camp 5 might be used occasionally by our farm vehicles or Ergon powerline maintenance vehicles. Campers are not permitted to drive any motor vehicles across the creek. You may walk or ride push-bikes across.
Activities: Bird watching, Creek Dipping, Bush Walking, Mountain biking, cocktails in the creek :-), …..
Fees:


NOTE: all prices are per person per night. A minimum site fee of six adults (or child equivalents) will be charged for this site. So for example a booking for 4 nights including a Saturday, will be charged 4x $9.90 = $39.60/night, whether it is used by one, two, three or four adults (plus $9.90/night for any extra adult).
Click here for more info on pricing (eg fees for children, long weekends, possible discounts etc).
A security deposit of $100 or 30% of camping fee will also be charged, which is refundable if Terms and Code of Conduct are adhered to and no littering occurs.
Availability:

December 2019
MonMonday
TueTuesday
WedWednesday
ThuThursday
FriFriday
SatSaturday
SunSunday
252019-11-25
262019-11-26
272019-11-27
282019-11-28
292019-11-29
302019-11-30
12019-12-01
22019-12-02
32019-12-03
42019-12-04
52019-12-05
62019-12-06
72019-12-07
82019-12-08
92019-12-09
102019-12-10
112019-12-11
122019-12-12
132019-12-13
142019-12-14
152019-12-15
162019-12-16
172019-12-17
182019-12-18
192019-12-19
202019-12-20
212019-12-21
222019-12-22
232019-12-23
242019-12-24
252019-12-25
262019-12-26
272019-12-27
282019-12-28
292019-12-29
302019-12-30
312019-12-31

Camp 5: Chris

2019-12-31 – 2020-01-01Camp 5

12020-01-01

Camp 5: Chris

2019-12-31 – 2020-01-01Camp 5

22020-01-02
32020-01-03
42020-01-04
52020-01-05
Important Note: bookings may not show until paid for. Just because the calendar shows no bookings for a certain date, this does not guarantee availability; we might have received a booking application which is being processed or awaits payment
If you want to book this camp, please fill out our booking form.
More Pictures: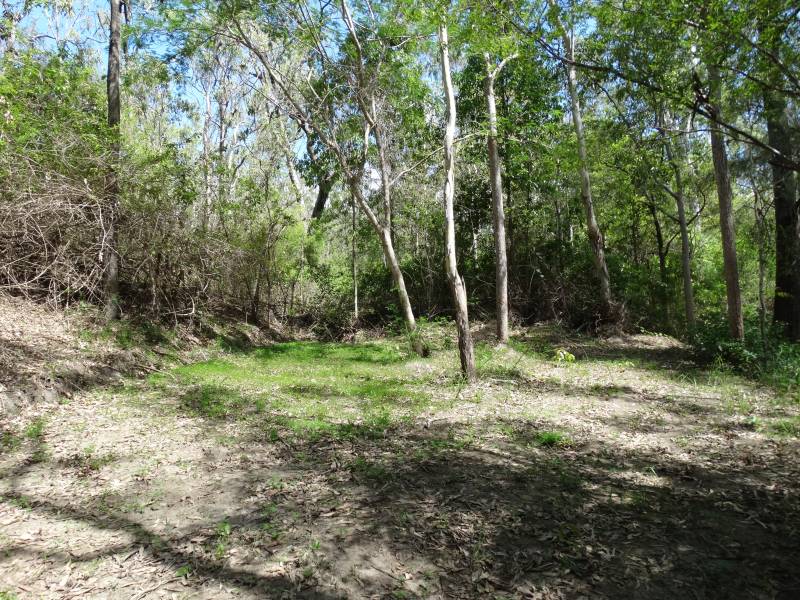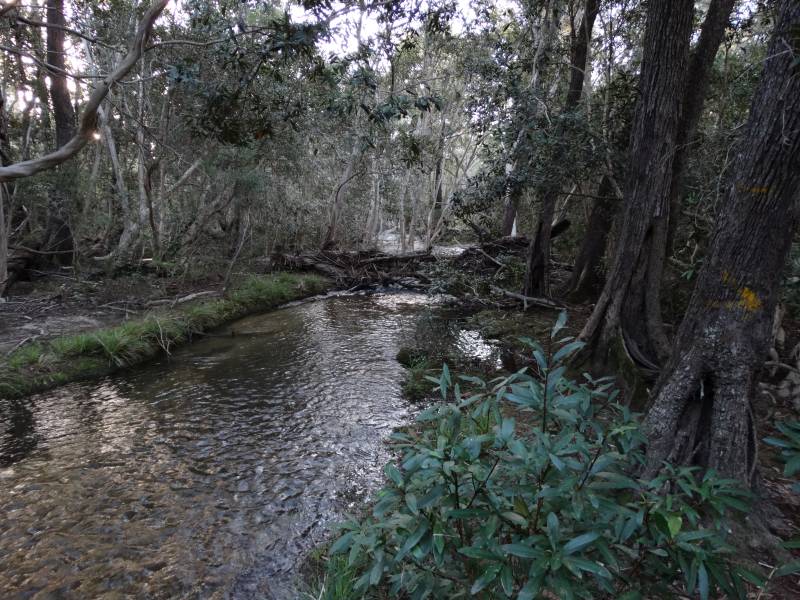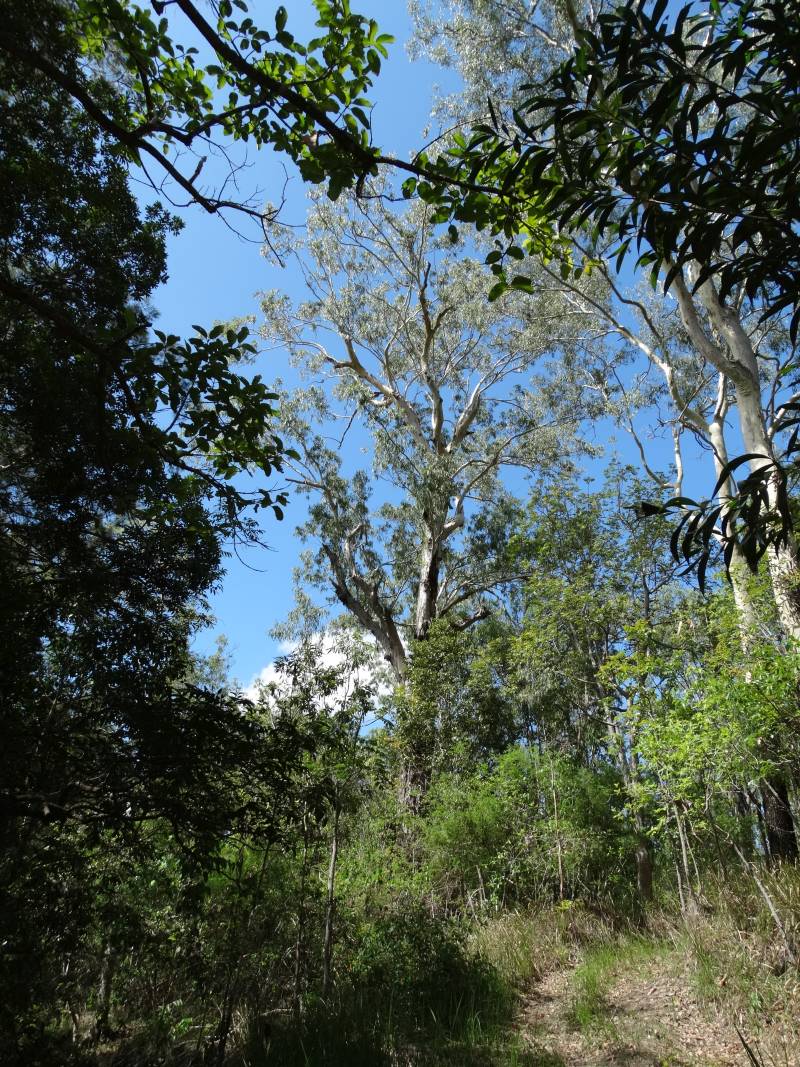 Here are some pictures kindly supplied by campers who used this site:
And here some feedback kindly shared by previous campers at camp 05:
Display_Name
What Star Rating do you give this particular camp site?
Please comment on this particular camp site
What camping set_up did your party use?
How well was this site suited to your camping set_up?
How would you compare this camp site with other camp sites you have been to?
anonymous
4
swag,small-tent
We camped at the lower site closest to the river,.this was just right for 3 cars and 6 people. I was surprised the fire place was so close to the bush and grass, usually a fire place is in the centre so people can all sit around it. At the creek there is a big branch/tree(it had the sticker on it) that restricts several seating and table area ., maybe that could be removed to enable more room for extra people if the top grounds had people camped with the group. Therefore everyone could sit there together to enjoy the cooler area and swim. Other wise there is not enough room we only just fit 6 chairs .
The posters are a great idea to have it helps get your bearings to where you are and the other camps.
3_better-than-most
Paul Spencer
3
Privacy is good on this site. The area for camping is not bad. One area is near the little creek which would only be suitable for two vehicle setup so to be comfy. The other areas that are marked for camping do need a big tidy up with the landscape as grass was a little long. The area that is available near the toilet would not be suitable for camping due to privacy concerns. The tracks leading to the toilet need to be maintained more.
Nice spot and I would rate this one as the better out of the the sites I looked at for a night out in the bush
medium-tent,medium-camper
The site was suited to my setup. I have a 4wd ute with a camper box on the back. Two awnings on side and back for the under awning tent and kitchen. Easy to get into and out. I was on the bottom pad as it was the only nice part of site 5 to camp on. It offered a nice outside area to use while sitting near the fire pit and also some shaded spots under the trees but unfortunately one could not view the creek form here and needed to move down to creek which was a cool spot.
4_average
Renee
5
5 stars
Private, shady, large & green with beautiful cool creek
small-tent
Well suited
3_better-than-most
Jackson
5
Feels very private like we have the property to ourselves. Beautiful creek area but we needed more time to explore. 4 stars (unable to select star rating on question above).
medium-tent
We set up next to the top fire pit which seemed to be flatter and more suitable. We had no problems with a party of two.
3_better-than-most
Alice
5
Completely private, great setting next to the creek, very helpful to have the table and chairs available, saw some fantastic birds in the morning. Great adventure to find the place and loved that it was only accessible by 4wheel drive, like the rough road.
small-tent
All good, no difficulties. Its spacious, pegs went in easily and good flat space to put up tent, enough space for the car.
1_best
anonymous
5
Great setting, close enough to the creek to collect water if needed, but far enough away that you didnt need to worry about the kids jumping in unsupervised.
Nice flat area at the bottom which fitted and suited our three families needs perfectly
roof-tent,large-tent,large-trailer
Camp 5 – We used the space at the bottom closest to the creek. It fit our three families perfectly, dont think we would have fitted a fourth family/ vehicle comfortably.
Reversing the camper trailer needed some skill – as advised when booking
Improvement? We would have loved a small track directly up the hill to the toilet, but the walk around wasn't bad.
2_one-of-best
Taylor
5
Felt very secluded considering only an hour or so out of Cairns.
medium-tent,swag,large-tent,roof-tent,large-trailer
Perhaps bins to leave rubbish at start of camping ground.
2_one-of-best
Phil Harris
5
Well 'hidden' site, lots of space for large groups if required. Next to the flowing creek, perfect for cooling down or relaxing in the hammock with a beer!
medium-tent
Our access day was very wet with heavy rain, the last part of the access driveway was very slippery and even in 4WD our vehicle did start to slide. Perhaps a few loads of stones / gravel on this spot would help in the future?
OUR COMMENT: Thanks, will be done soon
2_one-of-best