THE LAND
Kanjini Co-Op owns a very large rural property (over 25 square kilometers) on the Cairns side of Mareeba and through our Emerald Escape Camping business we will make large parts of this amazing property available to the wider community to enjoy.
It is about one hour drive from Cairns, 25 minutes from Kuranda and about 15 minutes from Mareeba, yet totally private, quiet and without light pollution.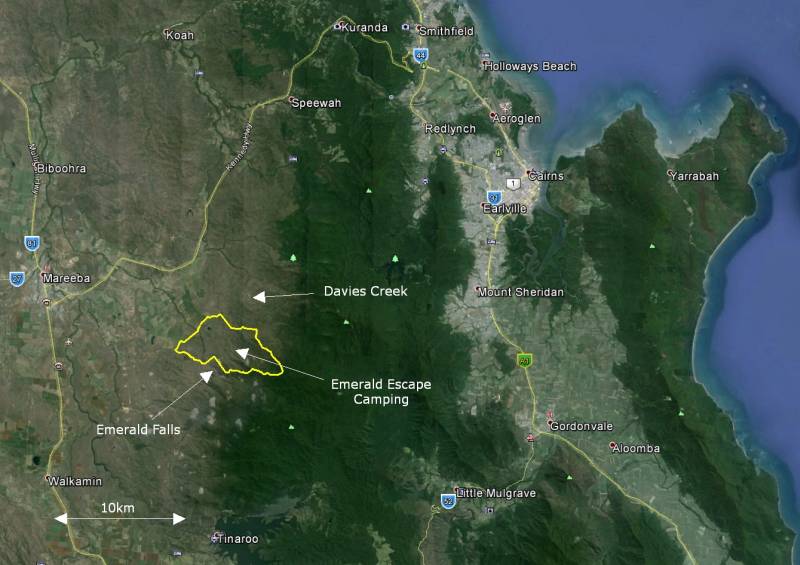 This former grazing property (known as Adler Hill Holding) ranges from about 450m elevation right up to 1150m, which might make it the highest privately owned property in Queensland.
To the south and the east it shares over 15km of its border with the Wet Tropics World Heritage area and surrounds the beautiful Emerald Falls on three sides.
The always cool emerald creek flows through our property for about three kilometres, and we have riparian rights, ensuring the privacy of our campers.
There is an about 20 acre lake on the land and several smaller dams.
PRIVATE CAMP SITES

We ask all campers to respect each others privacy and to keep away from any other camp site (unless specifically being invited). Sites are located at least 200m from the main day-use area and 400m away from each other and some are more than a kilometre from any other site.
You can bring your friends or family, have a private birthday party or just come with your partner or meditate by yourself and rest assured that all sites are designed to have maximum privacy.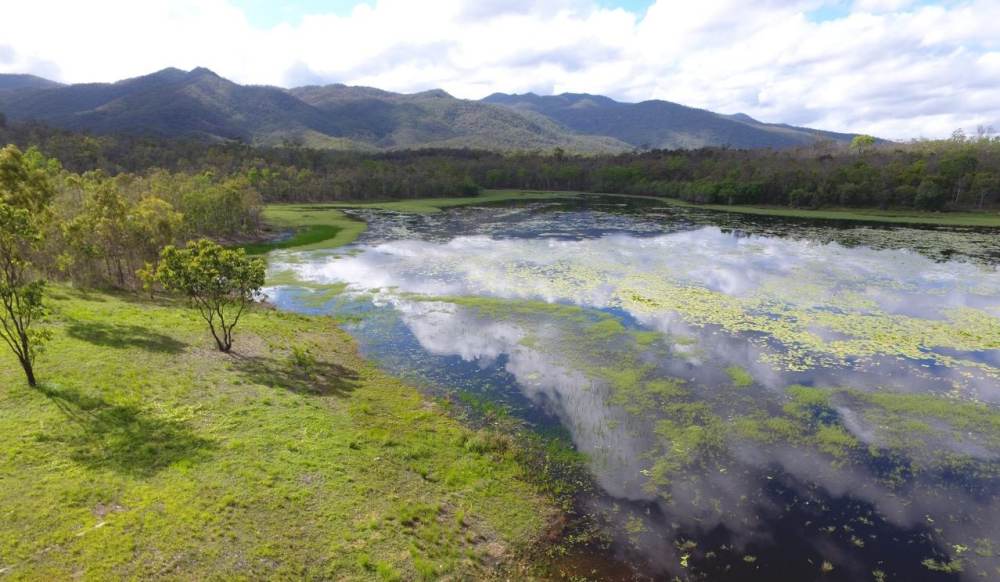 FACILITIES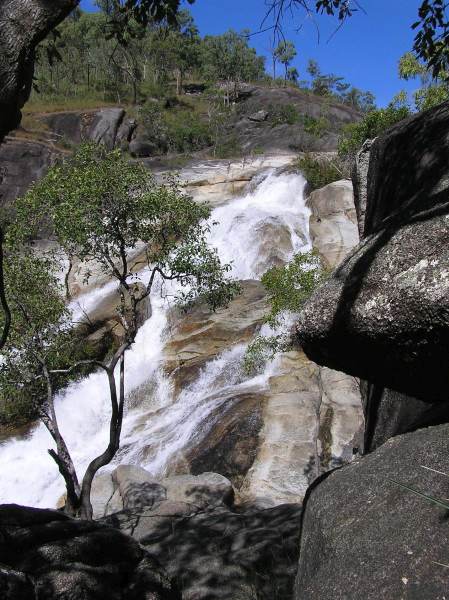 All camp sites have toilets and grey-water pits, but you need to bring everything else, including water.
All camp-sites will have access to the day-areas on our 20 acre lake and on the creek. There are toilets and very basic showers available at the lake day-area.
Our property borders onto the Davies creek mountain bike park and most internal tracks are closed to vehicles (except farm and management vehicles) for the enjoyment of mountain bike riders, horse riders and bush walkers. All campers are welcome to hike up the escarpment, where you will enjoy magnificent views, or walk up to Adler Hill or down to the creek for a cool dip.
Please keep this land clean and beautiful and remove all of your rubbish – leave no trace. Come and enjoy the beauty and the silence of this place and please leave all noisy things at home…
THINGS TO DO AND NOT TO DO
This land is a wildlife refuge and home to several endangered animals. We value and want to share with you its peace and quite and its natural beauty, so please first let us tell you what you or other campers cannot do:
bring your dogs or cats – sorry we do not know whether your dog hunts or not and many people do not know themselves what their pooch does when they don't look, so to ensure no wildlife is hunted (not even some of the many different insects and small lizards we have) we need to say no to all cats and dogs (except certified guide dogs on duty).
go joy-riding in motor vehicles or engage in other noisy activities – all vehicles are to be used only to get to your camp site and to and from day-use areas, no trail bikes or four-wheelers are permitted.

Turtle Rock (just inside of our boundary) with our 20 acre lake glistening in the distance (image by stevennowakowski.com)

have blaring music – you can have music, but please walk 50-100 m from your camp site and if you can still hear it, you need to please turn it down. You might like classical music or rock-n-roll, but your neighbours might have the opposite taste or came to meditate in silence, so please respect
What you can do and are encouraged to do:
go for walks along the tracks
you can go up to Adler Hill for stunning views, or hike up the escarpment into World Heritage, or walk around the lake or to the creek or hike up Brindle Creek to experience the tall forest and admire huge cycads.

always cool Emerald Creek

go bike riding (do so at your own risk and please use helmets and be aware of other people). Our property borders the Davies Creek Mountain Bike Park and is used by several mountain bike events
swim in the lake
use non-motorised floating devices (at your own risk and use proper safety gear)
run a silent generator, but only for the very limited time-slots provided in your booking confirmation, but never at night.
enjoy a swim in or walk along the creek
walk or bike to Emerald Falls
watch and listen to the birds
fishing in the lake, but not in the river. That's catch and release fishing with barb-less hooks and we ask that you please send us a pic of what you caught, so we get a better idea what's in there. No Crab-pots permitted.
respect the privacy of other camps
enjoy and relax 🙂
Enjoy this slideshow of pictures kindly shared by our camping visitors: