COVID-19 NEWSFLASH:
From 1 June 2020 12pm midday, you can go on holidays, including camping, with no limit on how far you travel [within Queensland]. according to Home Confinement, Movement and Gathering Direction (No. 2).
Emerald Escape Camping can accept your booking and is operating in accordance with our Covid-19 Health Management Plan.

Our totally isolated and private camp sites, each with their own toilet, are ideally suited to spend some soothing time in nature with your family while remaining isolated from everyone else and while observing government rules in regards to physical separation and isolation.
Check out this overview of all of our camp sites.

Here some feedback from campers:
"We loved the privacy how there wasn't anyone else around but us. It was so peaceful."
AND: "The camp ground was right beside a billabong with plenty of native birds. It was totally private with three different flat sites to choose from, to erect our camp. It felt like we were in a remote wilderness location, yet had the convenience of Mareeba close by. The big lake had amazing day use facilities. Emerald creek was crystal clean and flowing well."

Get a chance to win our next $100 camping voucher by taking our camping survey.
Emerald Escape Camping is owned and operated by Kanjini Co-Op, a sustainable rural cooperative working to create an intentional community as well as provide businesses and services to the wider community on this magnificent property. One of our first businesses is to share this magnificent property with the wider community by providing private camp sites. We started with just six sites spread over nearly 3000 acres and have now expanded to 14 sites, still ensuring privacy by trying to keep them visually and spatially well apart.

"Adler Hill Holding", our over 20 square kilometer big property, is located in Far North Queensland, a 35 minute drive west of Smithfield, Cairns, and just 15 minutes from the major Tableland township of Mareeba where you will find any amenities and services you might need.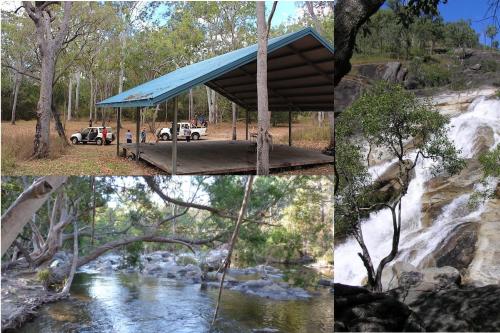 Our focus has been to create a camping experience similar to staying on a friend's land or going way out to experience the privacy of your own camp site without other campers right next to you. We have designed the sites to have plenty of space between them and to highlight some of the diverse and beautiful areas that can be found on this stunning property eg. on the creek, by the lake, and up in the hills…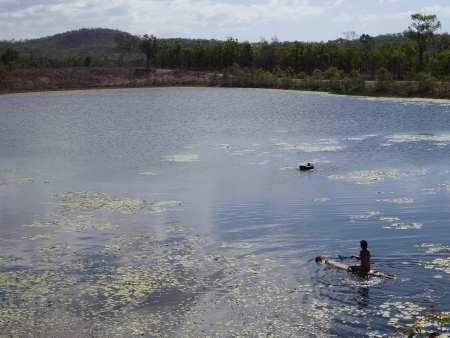 We have created 14 camp sites spread over 2800 acres giving you plenty of space and privacy and an amazing landscape to explore. We offer both 2WD and 4WD sites, ranging in size from small family getaways to larger workshop and retreat spaces or that special birthday party. The property has lots to offer: a 25 acre lake, 3km frontage along the crystal clear and always cool emerald creek, several small dams, great mountain bike tracks, lots of hikes, big trees, cycads and grass-trees, stunning views from the ridges of the escarpments and much more…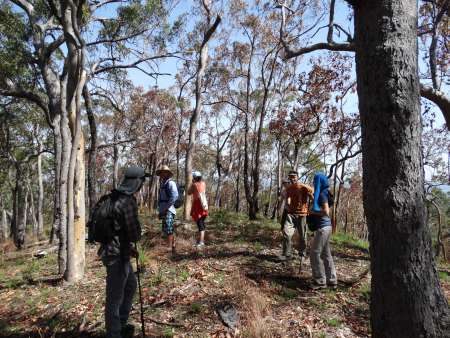 Please note that cats or dogs will not be allowed, since this is a high-value conservation zone.
Even just the smell of dog or cat excrement will scare wildlife and make them avoid areas.
This is a place for you to come and visit a place where our native animals can live in less fear of humans, since no predators are brought along.
Please take our camping survey to help us create a better camping experience
In return we will give you a free entry to our yearly draw for a $100.00 camping voucher
Enjoy these pictures kindly shared by previous campers, there are many stunning shots in there
(click them to open each gallery):