Camp 4 is a medium sized, well hidden camp site and has its own private dam as well as some nice views towards the mountains. It is 2WD accessible, can park several vehicles and can accommodate a camper trailer (reversing skills required). It is within walking distance of our 20 acre lake.
NEWSFLASH: due to a strong wet-season we currently have a proliferation of floating hornwort weed in the dam. Its a native which is not poisonous and actually increases oxygen levels, but it makes the small dam unsuitable for swimming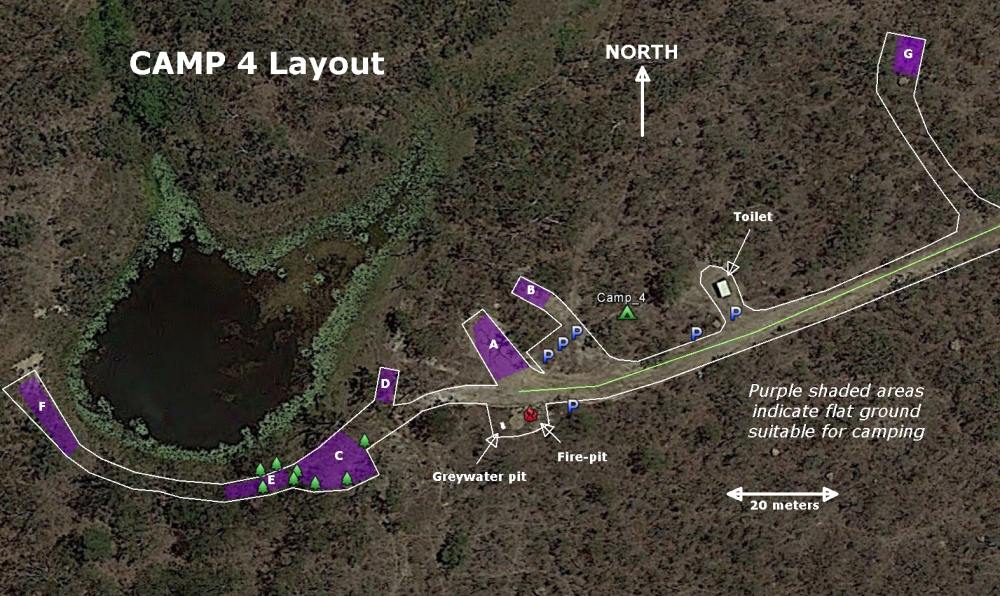 Size: Medium camp site situated on its own medium sized dam. It has several flat areas: A is ~60sqm, B ~20sqm, C ~100sqm, D ~20sqm, E ~30sqm, F ~50sqm and G  25sqm (up the hill). A, B, C, D and G can be used for camping trailers (C and D would require 4WD); A, C and G for roof-top tents, all would be usable for tents.
Access: 2WD, small to medium Camper Van, small to medium caravan (4WD vehicle required due to incline), small to large Camper Trailer (good reversing skills required).
Occupancy: This site can be booked for less, but will be charged for a minimum of 3 adults.
Suggested occupancy up to 15 people and 6 vehicles.
Privacy: well tucked away, ~150m from closest road, ~220m from lake day area and ~400m from closest camp site (all as the crow flies)
Activities: Bird watching, Swimming, Bush Walking…..
Fees:
Camp 4 is in our Low Pricing Category


NOTES: all prices are per person per night.
The base rate includes 3 adults or child equivalents (or4.5 adults for long weekends or 6 adults for Easter)
Click here for more info on pricing (eg fees for children, long weekends, possible discounts etc).
A Bond of $100 or 30% of camping fee will also be charged, which is refundable if Terms and Code of Conduct are adhered to and no littering occurs.
Availability:

Events in December 2023
| MonMonday | TueTuesday | WedWednesday | ThuThursday | FriFriday | SatSaturday | SunSunday |
| --- | --- | --- | --- | --- | --- | --- |
| 272023-11-27 | 282023-11-28 | 292023-11-29 | 302023-11-30 | 12023-12-01 | 22023-12-02 | 32023-12-03 |
| 42023-12-04 | 52023-12-05 | 62023-12-06 | 72023-12-07 | 82023-12-08 | 92023-12-09 | 102023-12-10 |
| 112023-12-11 | 122023-12-12 | 132023-12-13 | 142023-12-14 | 152023-12-15 | 162023-12-16 | 172023-12-17 |
| 182023-12-18 | 192023-12-19 | 202023-12-20 | 212023-12-21 | 222023-12-22 | 232023-12-23 | 242023-12-24 |
| 252023-12-25 | 262023-12-26 | 272023-12-27 | 282023-12-28 | 292023-12-29 | 302023-12-30 | 312023-12-31 |
Important Note: bookings may not show until paid for. Just because the calendar shows no bookings for a certain date, this does not guarantee availability; we might have received a booking application which is being processed or awaits payment
If you want to book this camp, please fill out our booking form.
More Pictures: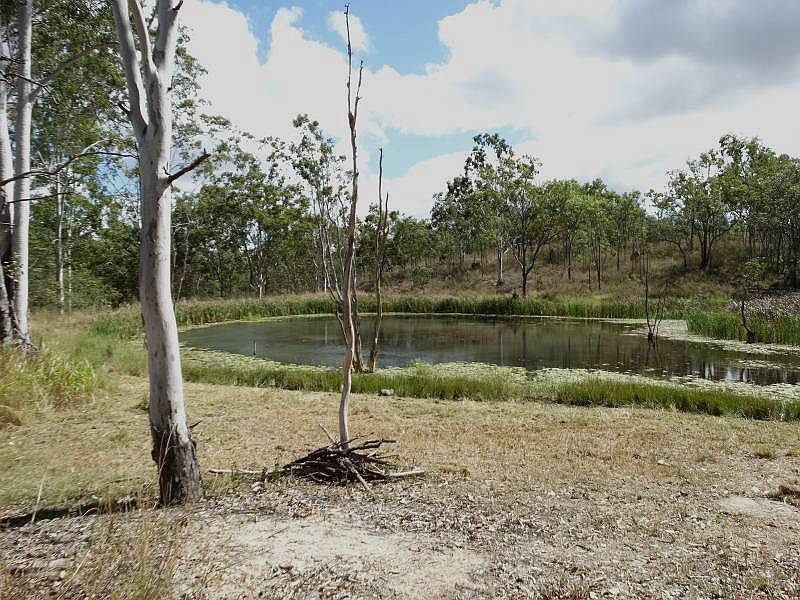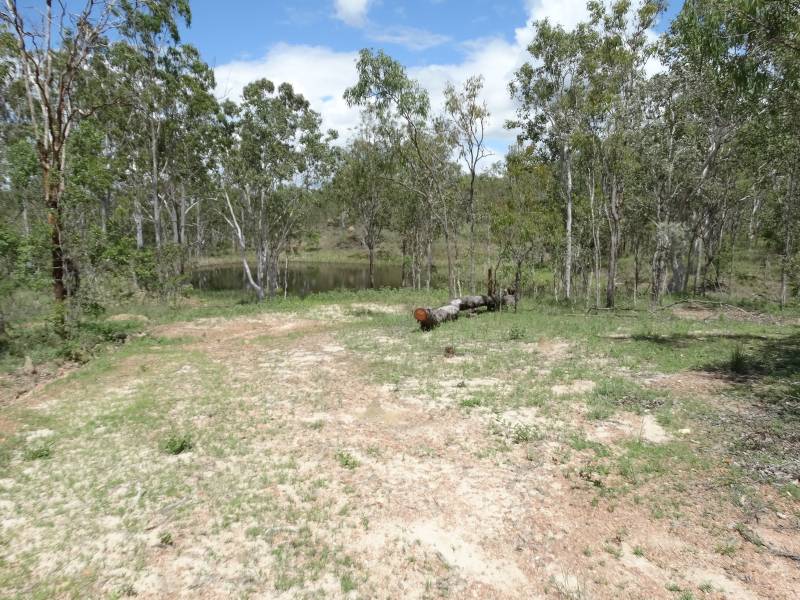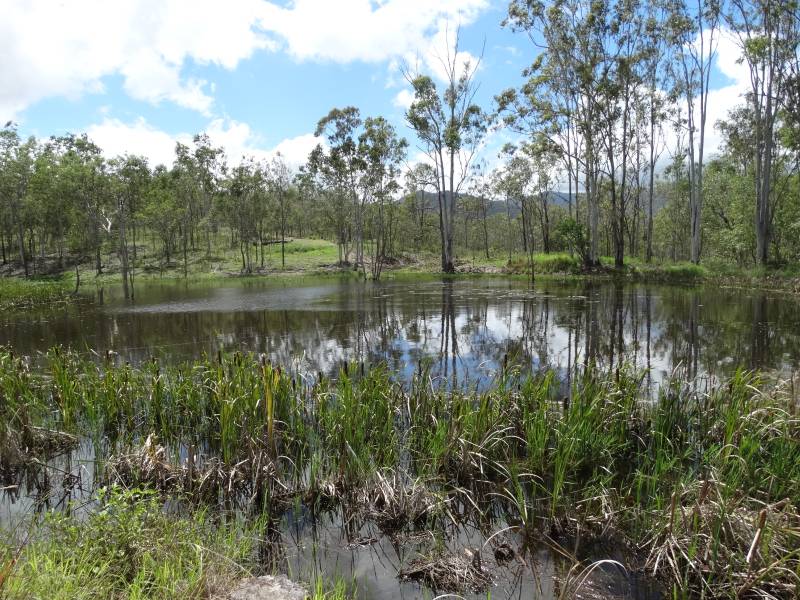 Here are some pictures kindly supplied by campers who used this site:
And here some feedback kindly shared by previous campers at camp 04:
Display_Name
Star Rating
Please comment on this particular camp site
What camping set_up did your party use?
How well was this site suited to your camping set_up?
How does this site compare with other camp sites you have been to?
Luke
4
Camp was nice and private, pair of kingfishers lived on the small dam , a possum hung around in the tree near the camp fire pit.
Good proximity to the big lake.
large-trailer
Tight getting the 2 pop top Jayco campers in there , but with some manoeuvering it could be done.
Its better than most
anonymous
4
Access to the dam wall and fire pit could be improved. I'm sure it is not always so wet. We like our kitchen camp set up near the fire. There are 3 obvious sites at camp 4, 2 of which are a long distance from the fire. It was a bonus to have a drop toilet.
medium-camper
A load of medium sized rocks dumped over the causeway would greatly improve access & stabilisation. The site is beautiful but unless you hike up the steep road in, there is very limited walking around the dam and access to the creek. If we took our three kids we would seek a different site next time.
Its average
Garry
5
Quiet and relaxing
large-tent
Perfect
Its one of the best
Amy
5
We loved this site it was a very cozy spot for the 2 of us and loved our private billabong. We had plenty of shade and sun and the atmosphere was very peaceful.
small-tent
Our set up suited this spot very nicely and we had no issues with anything
Its one of the best
jeshneel
5
Loved the parking and camping setup areas higher up then going down close to the lake for the campfire. Allows for different variations. The ground was a bit hard to setup tent pegs but that was minor. the road was visible from the site with cars going over but that was not a distraction in anyway. The toilet facility was clean and well kept. The table was really useful. Saw a 2 meter olive python cross over into the lake.
It was a private setting and we enjoyed the night.
large-tent,medium-tent,medium-trailer
No complaints, except that pegs were hard to drive in the ground.
Its one of the best
anonymous
5
Private
good fire setup
good dropbox
shame so much growth in dam at moment but still beautiful setting
handy for 2Wd
small-camper
difficult one 2WD van to camp right next to fire & dam due to wet ditch but happy to camp up higher no problems
Its one of the best
anonymous
5
Was a little small but was overall good
large-trailer
Needs to be opened up a little
Its better than most
Karin
5
4 star under the stars. The campsite was very usable and well planned. Very private and peaceful.
medium-tent,small-tent
The main fire pit is in the wrong spot. Very hard to fit everyone around it comfortably and too far away from the dam and very exposed. Nicer under the trees closer to the dam.
[OUR COMMENT: that is where it is now :-)]
Its better than most
Display_Name
Star Rating
Please comment on this particular camp site
What camping set_up did your party use?
How well was this site suited to your camping set_up?
How does this site compare with other camp sites you have been to?