Camp 3 is a small to medium site and has its own beautiful private dam. This camp site is centrally located, but well hidden. It also has several shady tent sites or day areas on the dam wall itself.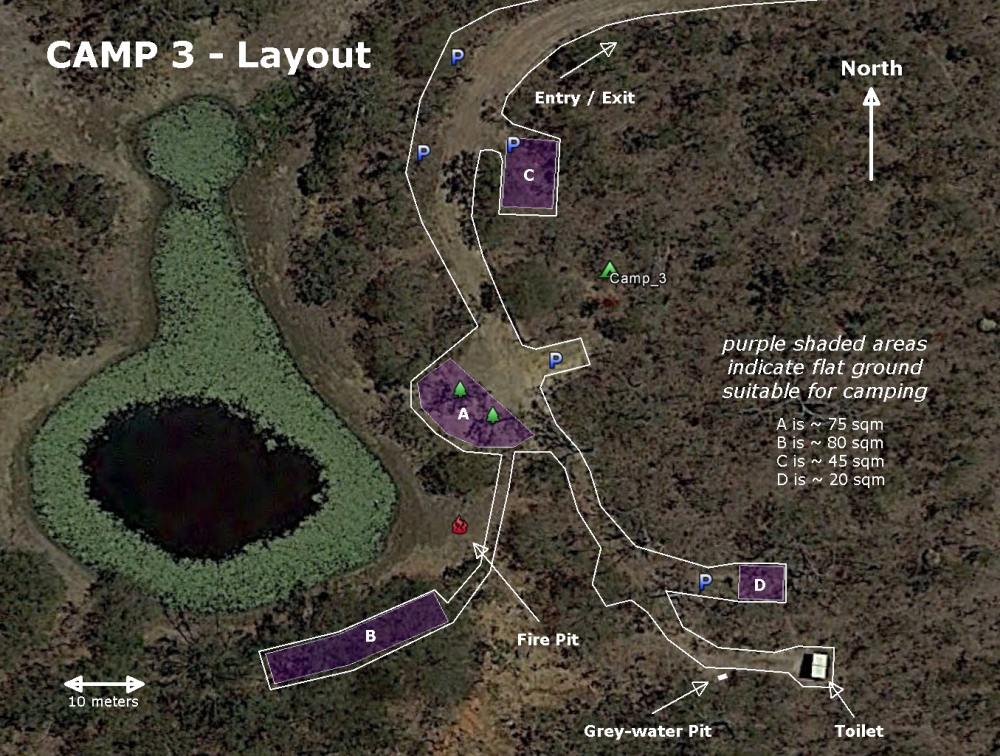 Size: Small to medium camp site situated on its own small dam.
Purple area A and D could be used for camper trailers (very good reversing skills required and 4WD for area D). A, C and D are usable for roof top tents ( area D only with 4WD).
Area B is very shady and useable for tents and/or as day-area (walking access only).
Access: 2WD, small Camper Van, Camper Trailer (very good reversing skills required).
Occupancy: This site can be booked for less, but will be charged for a minimum of 2 adults.
Suggested occupancy up to 10 people and 4 vehicles.
Privacy: central, but well hidden, ~70m from closest road, ~700m from lake day area and ~750m from closest camp site (all as the crow flies)
Activities: Bird watching, Swimming, Bush Walking…..
Fees:
Camp 3 is in our Medium Pricing Category


NOTES: all prices are per person per night.
The base rate includes 2 adults or child equivalents (or 3 adults for long weekends or 4 adults for Easter)
Click here for more info on pricing (eg fees for children, long weekends, possible discounts etc).
A Bond of $100 or 30% of camping fee will also be charged, which is refundable if Terms and Code of Conduct are adhered to and no littering occurs.
Availability:

Events in December 2023
MonMonday
TueTuesday
WedWednesday
ThuThursday
FriFriday
SatSaturday
SunSunday

272023-11-27

282023-11-28

292023-11-29

302023-11-30

12023-12-01

22023-12-02

32023-12-03

42023-12-04

52023-12-05

62023-12-06

72023-12-07

82023-12-08●(1 event)

Camp 03: FULL

Camp 03
2023-12-08 – 2023-12-09

92023-12-09●(1 event)

Camp 03: FULL

Camp 03
2023-12-08 – 2023-12-09

102023-12-10

112023-12-11

122023-12-12

132023-12-13

142023-12-14

152023-12-15

162023-12-16

172023-12-17

182023-12-18

192023-12-19

202023-12-20

212023-12-21

222023-12-22

232023-12-23

242023-12-24

252023-12-25

262023-12-26

272023-12-27

282023-12-28

292023-12-29

302023-12-30

312023-12-31
Important Note: bookings may not show until paid for. Just because the calendar shows no bookings for a certain date, this does not guarantee availability; we might have received a booking application which is being processed or awaits payment
If you want to book this camp, please fill out our booking form.
More pictures: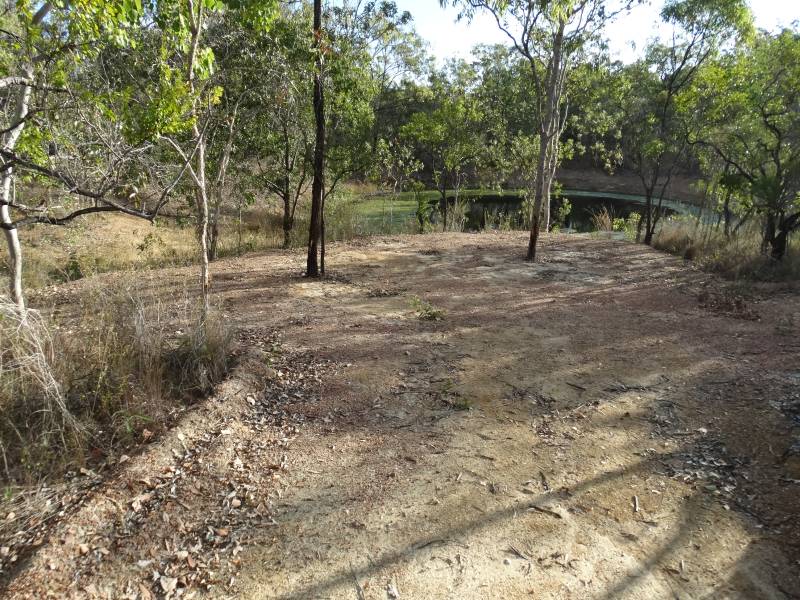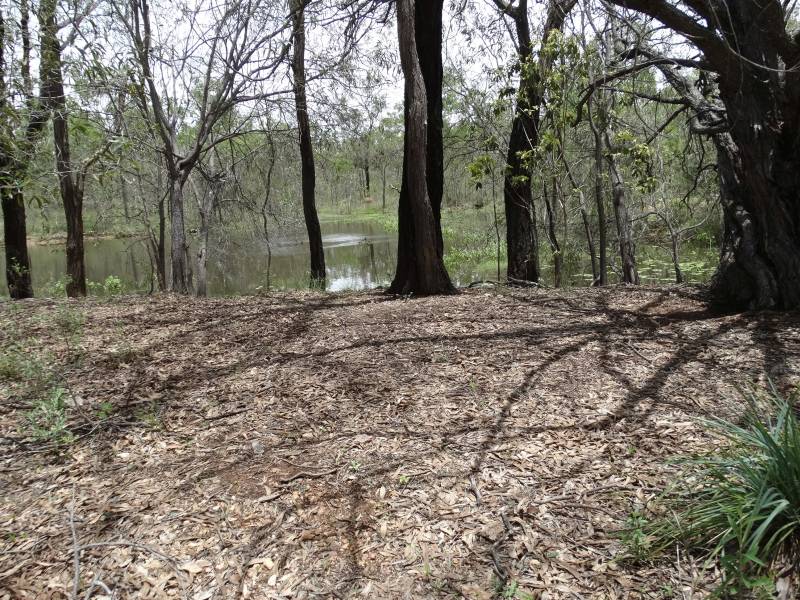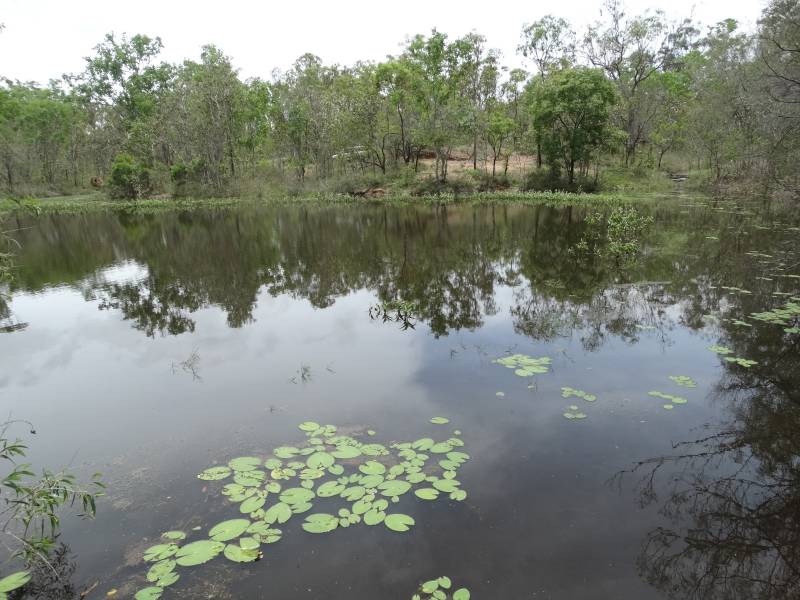 Here are some pictures kindly supplied by campers who used this site:
And here some feedback kindly given by previous campers at camp 03:
Display_Name
Star Rating
Please comment on this particular camp site
What camping set_up did your party use?
How well was this site suited to your camping set_up?
How does this site compare with other camp sites you have been to?
anonymous
5
So very private! I felt like the only person for kms. The toilet was far enough away and it didn't smell, thank you. The instructions for the loo were clear and concise. The vista was delightful allowing a view of any wildlife and the temptation for a swim in the cool billabong.
small-tent
Absolutely a perfectly sized site for my camp. No suggestions for improvement, though the old chairs were ugly but the table was a bonus.
Its better than most
David
5
Very private with a large dam/billabong which was great for a swim.
small-camper
No difficulties, easy access. Suited to small group maybe two couples max.
Its one of the best
anonymous
2
private, quiet and nice for birdwatching, but water levels low at this time of year
small-trailer
flat, but not easy to get trailer into so it was facing the dam
anonymous
4
Nice to have a camp site so close to the water. Lots of space and privacy from other camp sites.
medium-tent
Good size for rent, car and awnings. And to also enjoy the campfire.
Leaf litter being left would reduce the amount of dirt and dust.
Its better than most
anonymous
5
Private, close to water great for e family.
swag,small-tent
Didn't have any issues. It was great thank you.
Its better than most
Matthew
5
Privacy on the dam bank with shade and positioned away from rain water drainage. The dam provides endless viewing with some little surprises.
It's relaxing being surrounded by bushland, birds and the sound of rain on the tent.
medium-tent
We noted that the camp area close to the fire pit was a course for rain water to run down to the dam and setting up on the dam bank made for a much more relaxing stay.
Either channelling the water away from the level area or lifting the site could be helpful.
Possibly the inclusion of a small timber walkway over the dip leading up to the dam wall camp area would be handy.
Its better than most
Lea
5
Lovely, private camp overlooking a billabong. Love it.
medium-tent
Great site, fire place. Pretty outlook
Its the best
Anne and Gunnar
2
It's very private. No usable water because of the dried-out lake which would be a health hazard just using the water for washing dishes.
[OUR COMMENT: the lake might have looked dried-out to you, but there were still 2-4 million litres of water in there with a healthy ecosystem]
small-camper
Provide a rubbish bin.
Its average
timothy
3
Quiet private spot.
medium-camper
Set up was quite easy.
Its average
Abbey
5
We absolutely loved Camp 3! My boyfriend and I stayed for two nights and loved sitting by the fire watching the wildlife at the billabong. It's one of the most private campsites I've ever stayed at and we'll be back for sure!
small-tent
Great- flat land, some shade and a fire pit. Couldn't have asked for more!
Its one of the best
Phil MacArthur
5
Secluded site overlooking a billabong and well distanced from other sites and the property access road. Particularly liked the interesting concept of the bush dunny and ability to sit round a campfire. Also appreciated the table left there.
medium-camper
A bit of manoeuvring for our other two guest but with a bit of patience and a couple of levelling ramps our campers fitted in well. Both of us had slide on campers so a bit easier than most.
Its better than most
anonymous
5
Loved the billabong, the shade and the privacy
roof-tent
Very easy
Its better than most
Tracey
5
Great little Billabong with easy access. Animals around that we could observe but didn't enter the camp. Shy little turtles that came to visit. Dry creek bed for exploring. Someone left a useful table and chairs. Perfect fire pit. Easy car access.
small-tent,medium-tent
Ground was a little too hard to peg tents down so only the medium tent was pegged as we bent the ones for the small tent. My car is little and on entering the site it scraped a little bit on the rocks and grass in the undercarriage.
Its one of the best
Sarah
5
Private site, quiet, great bird life
small-tent
Flexible site, this time set up with awning tent and worked well
Its the best
Lea
5
Really felt we were away from it all. Total privacy, camp fire overlooking the dam. Really relaxing
medium-tent
Great site for 4 man dome tent and pergola. Loads of space for the 2 of us.
Its better than most
anonymous
5
We loved the privacy how there wasnt anyone else around but ua. It was so peaceful.
large-tent
It was a bit of a squeeze but we made it work. We all like to be in the same area. Had we used the 3 areas it wouldn't have been an issue. We have small children so we want to be close to them at all times.
Its one of the best
Katrina
5
The camp ground was right beside a billabong with plenty of native birds. It was totally private with three different flat sites to choose from, to erect our camp. It felt like we were in a remote wilderness location, yet had the convenience of Mareeba close by.
medium-tent
The site next to the billabong was flat and large enough for us to erect a 5.4 x 3.6m tarp as well as a medium size tent. Whilst also maintaining a safe distance from the fire pit area and still having plenty of play area for my 7 year old son. No difficulties arouse with setting up camp.
Its one of the best
carl natton
5
Very private, peaceful and relaxing, even with two kids, the dam attracted a lot of birds and I think Wallaroos, especially at night.The eldest daughter spent a lot of time spotlighting and found one big mouse spider. We didn't`t swim in the dam as the water level was low and the water looked a bit murky so we went to the big lake and the creek to cool off. Plenty of dead wood lying around on the ground for a fire. Good level site. The table and chairs provided proved very useful too.
medium-tent
Perfect, enough room for the tent and a pergola under which we set up the camp kitchen.
Its better than most
James
5
It could do with opening up as it was a squeeze to get a camp set up with a tree in the middle of the open ground , solar showers even if they were central to all the sites would be awesome , loved the 4×4 track to the creeks , this is awesome and will keep people coming back ,
medium-trailer
As above
Its average
Bev
5
I give 5 out of 5 star rating for camp site No 3.
It is very private and set above a small dam. The site is quiet, with an abundance of bird life in the surrounding trees, the dam encourages native animals and birds to visit.
small-camper,swag
Site 3 was a perfect for our setup of small van and swag. It would also suit a slightly larger van and/or a tent or two.
The site is very level, and clear of impediments to the ease of moving around the site.
Its one of the best
Nigel
5
Positive things – Very secluded, private and the dam is a bonus for attracting wildlife. Toilet and waste water pit were adequate. The site has a nice outlook.

Negative things – Ground is fairly compacted making it hard to peg tents down and not that even over much of the site. Very tight to turn and park vehicles if you have more than two (we had three).

large-tent,medium-tent
Site 3 could be improved by clearing just a little more ground so that there is a proper turning circle near the toilets. If the footprint was enlarged slightly it would mean that tents are not being assembled on the edge of the road which is highly compacted from vehicles and hard to peg tents down. Would have minimal environmental impact on a property of this size but would enhance the camping experience.
Would suggest a designated fire pit as various locations have been used in the past. This will also make the site safer in the dry season from fires escaping. Would also recommend adding the directions to sites to your website or as a minimum to the bottom of the Invoice as we initially went to the Emerald Creek Falls side of the property.
[OUR COMMENT: there is a designated fire-pit and detailed directions are emailed]
Its average
Paul
5
Very private
large-tent
Good.. small space for tent and kitchen set up
Its average
Angie & Phil
5
Privacy was great, nicely situated next to the dam with good balance of cleared area and tree cover.
medium-tent
Unfortunately we arrived with heavy rain falling and had to make a quick decision on tent and gazebo position, there didn't appear to be a designated fire-pit so we made our own in a suitable position for our setup.
[OUR COMMENT: now there is a dedicated fire-pit]
Its better than most
Display_Name
Star Rating
Please comment on this particular camp site
What camping set_up did your party use?
How well was this site suited to your camping set_up?
How does this site compare with other camp sites you have been to?