This site is located on the side of our 20 acre lake nestled back in the trees to provide a private lake side experience. It is a great location to watch the sun rise over the lake and enjoy the pleasantly warm water temperatures all year round.
Being by the water it is home to many beautiful water birds from around the area including but not limited to: 'Franklin' the Pelican, Ducks, Sarus Cranes, Brolgas, Jacanas, Herons, Egrets, and Kingfishers.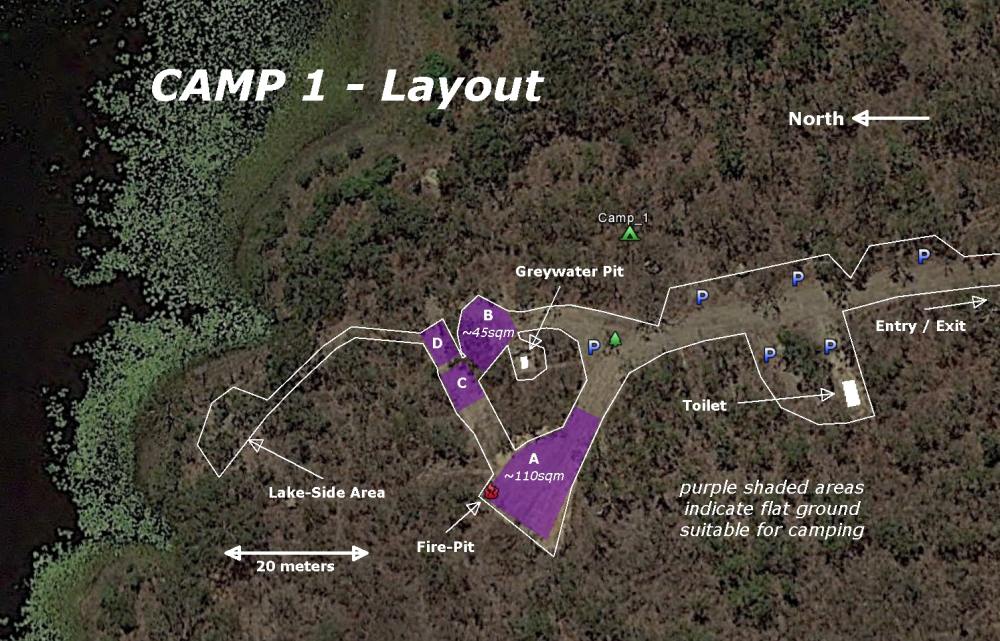 Size: Large sized camp site situated right on our 20 acre lake. It has one large (~100sqm) area and three smaller areas with level ground for camping, as well as a nice levelled area to spend the day by the water.
Area A in above map is suitable for camper trailers or roof top tents, but good reversing skills are required to turn around. Only very experienced drivers could also reverse a camping trailer into B (~4×5 meters) or C
Access: 2WD, Camper Van, Camper Trailer(good reversing skills required).
Occupancy: This site can be booked for less, but will be charged for a minimum of 4 adults.
Suggested occupancy up to 12 people and 5 vehicles.
Privacy: not easily seen from day-area and well hidden from the road, ~100m from closest road, ~280m across the lake from the day area and ~400m from closest camp site (all as the crow flies)
Activities: Bird watching, Canoeing, Swimming, Bush Walking…..
Fees:
Camp 1 is in our Medium Price Category
NOTES: all prices are per person per night.
The base rate includes 4 adults or child equivalents (or 6 adults for long weekends or 8 adults for Easter)
Click here for more info on pricing (eg fees for children, long weekends, possible discounts etc).
A Bond of $100 or 30% of camping fee will also be charged, which is refundable if Terms and Code of Conduct are adhered to and no littering occurs.
Availability:

November 2020
MonMonday
TueTuesday
WedWednesday
ThuThursday
FriFriday
SatSaturday
SunSunday
262020-10-26
272020-10-27
282020-10-28
292020-10-29
302020-10-30
312020-10-31
12020-11-01
22020-11-02
32020-11-03
42020-11-04
52020-11-05
62020-11-06
72020-11-07
82020-11-08
92020-11-09
102020-11-10
112020-11-11
122020-11-12
132020-11-13
142020-11-14

Camp 1: FULL

Aaron, 4,0,0,0,0 - 2
sTE, GA

152020-11-15
162020-11-16
172020-11-17
182020-11-18
192020-11-19
202020-11-20

Camp 1: FULL

November 20-21, 2020Camp 1

Brenton, 3,1,3,1,1 - 3
2x mTE, GA

212020-11-21

Camp 1: FULL

November 20-21, 2020Camp 1

Brenton, 3,1,3,1,1 - 3
2x mTE, GA

222020-11-22
232020-11-23
242020-11-24
252020-11-25
262020-11-26
272020-11-27
282020-11-28
292020-11-29
302020-11-30
12020-12-01
22020-12-02
32020-12-03
42020-12-04
52020-12-05
62020-12-06
Important Note: Just because the calendar shows no bookings for a certain date, this does not guarantee availability; we might have received a booking application which awaits processing or payment.
If you want to book this camp, please fill out our booking form.

Here are some pictures kindly supplied by campers who used this site:
And here some feedback from previous campers at Camp 01 who kindly shared their experience:
Display_Name
What Star Rating do you give this particular camp site?
Please comment on this particular camp site
What camping set_up did your party use?
How well was this site suited to your camping set_up?
How would you compare this camp site with other camp sites you have been to?
tim
4
There is a tree in the middle of the entry area which makes reversing in more difficult.
OUR COMMENT: thanks for the feedback, we have removed this tree
3_better-than-most
anonymous
5
Very private, quiet, clean, lovely setting, and felt as though we were camping in a remote area even though civilisation was not far away.
small-tent,medium-tent,small-trailer,medium-trailer
An earlier check-in before 3pm would have been better, because it took us some time to set up camp and we were rushing to complete it before dark. Also, a bit tight with all our vehicles, camper trailers and tents, but that was our doing and we managed – a smaller group would fit comfortably.
2_one-of-best
Stephanie
5
5 star
So private
Beautiful dam
small-tent,medium-tent
Perfect
2_one-of-best
anonymous
5
Its privacy and cleanliness. Beautiful water lilies
medium-tent
Good
3_better-than-most