One of our new sites, Camp 9 is on Emerald Creek and ideal for camping in tents, but also suitable to trailers or roof-tops. It has two flat upper areas (~200 sqm) and a medium high one of about 30sqm with nice views onto the creek canopy.
There are three connecting access roads down below high-water mark with about 250sqm of level ground along them (which may be flooded occasionally during the wet season). From there it is a short walk to the always cool creek and  some very beautiful and shady tent sites along it.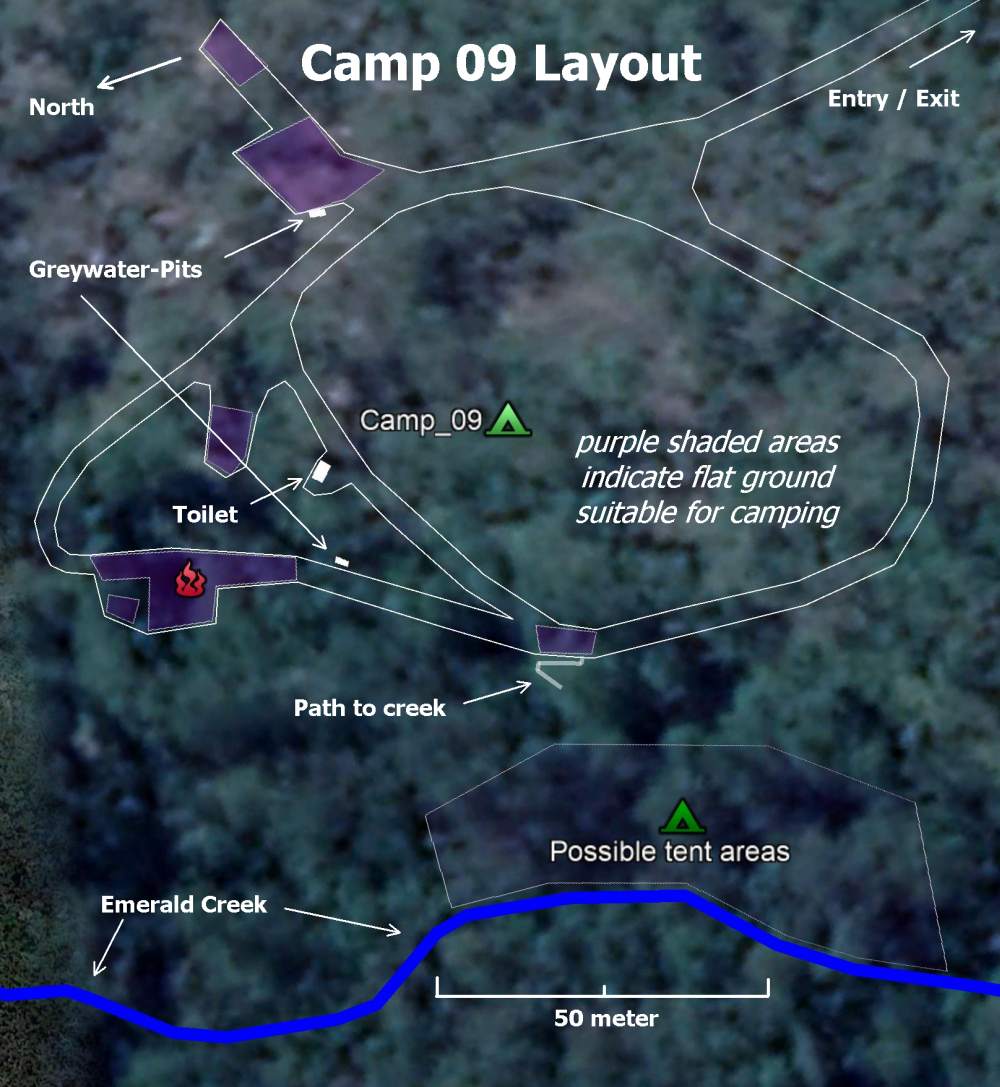 Size: Medium to large camp site with over 450 square meters of level ground (plus lots of flat ground near the creek for tents).
Access: 4WD, small RV, small caravans and medium trailers with medium to high clearnace
Occupancy: Basic fee includes 4 adults.
Suggested occupancy up to 20 people and 6 vehicles (more possible in tents).
Privacy: ~280m from closest road and very well hidden from the road, ~200m from closest camp site (all as the crow flies).
Fees:
Camp 09 is in our Low Price Category
NOTES: all prices are per person per night.
The base rate includes 4 adults or child equivalents (or 6 adults for long weekends or 8 adults for Easter)
Click here for more info on pricing (eg fees for children, long weekends, possible discounts etc).
A Bond of $100 or 30% of camping fee will also be charged, which is refundable if Terms and Code of Conduct are adhered to and no littering occurs.
Availability:

September 2020
MonMonday
TueTuesday
WedWednesday
ThuThursday
FriFriday
SatSaturday
SunSunday
312020-08-31
12020-09-01
22020-09-02
32020-09-03
42020-09-04

Camp 9: FULL

September 4-5, 2020Camp 9

52020-09-05

Camp 9: FULL

September 4-5, 2020Camp 9

62020-09-06
72020-09-07
82020-09-08
92020-09-09
102020-09-10
112020-09-11
122020-09-12
132020-09-13
142020-09-14
152020-09-15
162020-09-16
172020-09-17
182020-09-18
192020-09-19
202020-09-20
212020-09-21
222020-09-22
232020-09-23
242020-09-24
252020-09-25

Camp 9: FULL

September 25-26, 2020Camp 9

262020-09-26

Camp 9: FULL

September 25-26, 2020Camp 9

272020-09-27
282020-09-28
292020-09-29
302020-09-30
12020-10-01
22020-10-02
32020-10-03
42020-10-04
Important Note: Just because the calendar shows no bookings for a certain date, this does not guarantee availability; we might have received a booking application which awaits processing or payment.
If you want to book this camp, please fill out our booking form.