One of our new sites, Camp 10 is the most private site on Emerald Creek.  Situated on the high bank it overlooks the creek.
A short path leads down to the creek where you will find rapids, water holes and one of the biggest pools along the 3km of river inside of our property.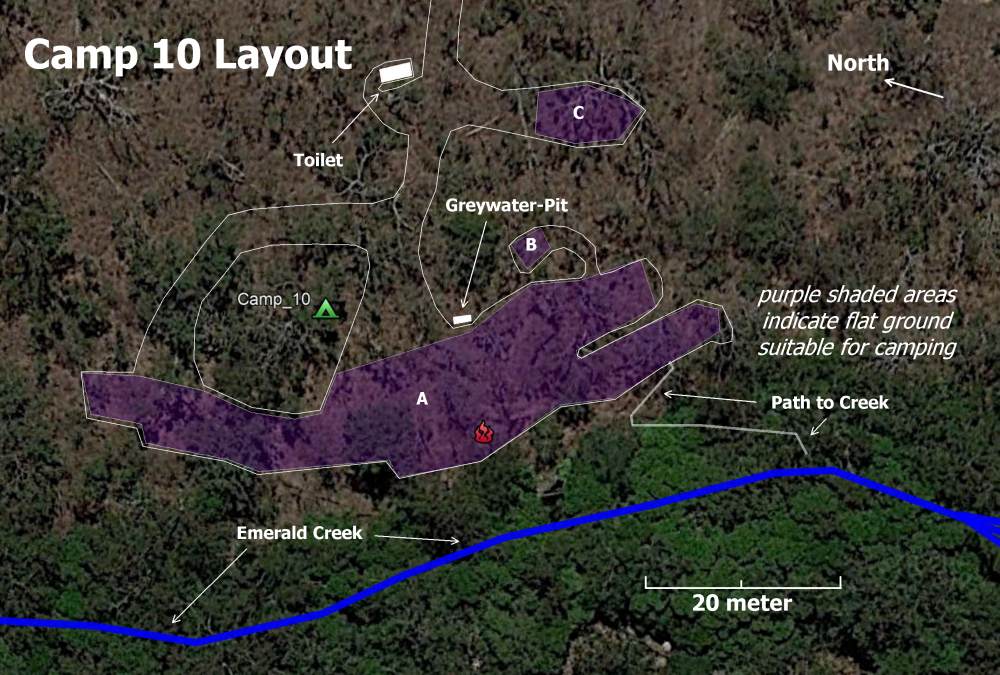 Size: Large camp site with about 700 square meters of level ground.
Areas A (~650 sqm) is on the high bank and overlooks Emerald creek
Area B is only about 10-15 sqm, but makes for a very shady spot to hang out at the table we provide (bring your own chairs)
Area C (50 sqm) is an additional level area for those who want to be a bit further away from the rest.
Access: 4WD, medium RV, medium caravans and trailers, all with medium clearance
Occupancy: Basic fee includes 5 adults.
Suggested occupancy up to 30 people and 6 vehicles.
Privacy: ~600m from closest road and very well hidden, ~330m from closest camp site (all as the crow flies), one of our most private sites
Fees:
Camp 10 is in our Medium Price Category
NOTES: all prices are per person per night.
The base rate includes 5 adults or child equivalents (or 7.5 adults for long weekends or 10 adults for Easter)
Click here for more info on pricing (eg fees for children, long weekends, possible discounts etc).
A Bond of $100 or 30% of camping fee will also be charged, which is refundable if Terms and Code of Conduct are adhered to and no littering occurs.
Availability:

September 2020
MonMonday
TueTuesday
WedWednesday
ThuThursday
FriFriday
SatSaturday
SunSunday
312020-08-31
12020-09-01
22020-09-02
32020-09-03
42020-09-04

Camp 10: FULL

September 4-5, 2020Camp 10

Chrissy 12,0,0,5,3 -5,ct1

52020-09-05

Camp 10: FULL

September 4-5, 2020Camp 10

Chrissy 12,0,0,5,3 -5,ct1

62020-09-06
72020-09-07
82020-09-08
92020-09-09
102020-09-10
112020-09-11
122020-09-12
132020-09-13
142020-09-14
152020-09-15
162020-09-16
172020-09-17
182020-09-18
192020-09-19
202020-09-20
212020-09-21
222020-09-22
232020-09-23
242020-09-24
252020-09-25
262020-09-26
272020-09-27
282020-09-28
292020-09-29
302020-09-30
12020-10-01
22020-10-02
32020-10-03
42020-10-04
Important Note: Just because the calendar shows no bookings for a certain date, this does not guarantee availability; we might have received a booking application which awaits processing or payment.
If you want to book this camp, please fill out our booking form.