Emerald Escape Camping has set up six private camp sites on our nearly 5000 acre property on the Cairns side of Mareeba, situated between Davies Creek Falls and Emerald Falls and bordering onto the Wet Tropics World Heritage Area.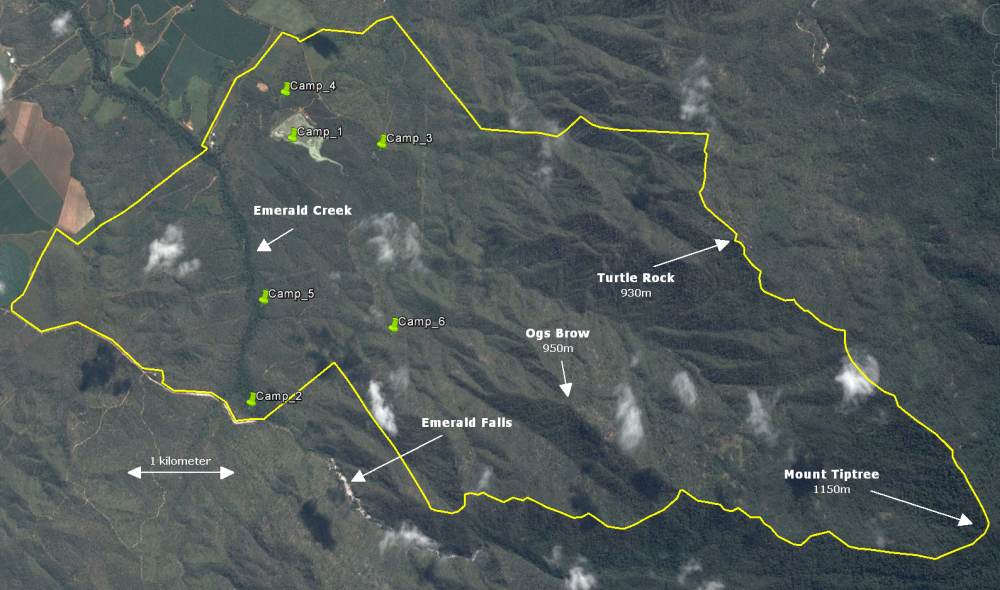 Two of the camp sites are on Emerald Creek, two are on small dams, one is on the big 20 acre dam (across from the public day area) and one is in the hills up the escarpment.
All Campsites have toilets provided, but you need to bring everything else.
Here a quick overview of our different camp sites:
Minimum Site Fee Charged for

4 People

6 People

2 People

3 People

4 People

3 People

Access

2WD

2WD

`2WD

2WD

4WD only

4WD only

Location

Large dam

On creek near falls

Small dam

Small dam

On creek

Up in the escarpment

Distance
to next camp-site

440m
*3

800m
*3

800m
*3

440m
*3

800m
*3

1200m
*3

Max

Capacity

12 People

5 Vehicles

150 People

50 Vehicles

10 People

3 Vehicles

20 People

6 Vehicles

25 People

8 Vehicles

10 People

4 Vehicles

small RV

Yes

Yes

Yes

Yes

Yes if 4WD

Yes if 4WD

Medium RV

yes

yes

no

yes

Yes if 4WD

no

Large RV

no

yes

no

no

no

no

Caravan

no

no

no

*1

*1

no

Camping trailer

*2

yes

*1

*2

*2

*1

Toilet

yes

Yes

Yes

Yes

Yes

yes

Water

BYO

BYO

BYO

BYO

BYO

BYO

Shelter

No

Yes

No

No

No

no
*1 at own risk, requires very experienced driver to turn around
*2 at own risk, requires experienced driver to turn around
* as the crow flies